About JIAKAI PACKING MACHINERY

Since its first equipment manufactured in 2003, with years of efforts and development from the establishment of Changzhou Jiakai Packing Machinery Co., Ltd. until present days, Jiakai Packing Machinery has continued to keep its high reputation among customers for its high-quality products, great credit and excellent services, and has attained various independent intellectual property rights.

Jiakai Packing Machinery manufactures, sells, and services flexible packaging machinery for food and non-food markets worldwide. It offers a variety of automated Vertical Form Fill Seal (i.e. VFFS) machines and ancillary equipment with a strong focus on industries of material with viscosity. Persisting with its efforts to bring about innovation and high performance, Jiakai has partnered customers both within the domestic area and internationally with its mission to help businesses across the globe to turn their greatest challenges into an automated packaging success.

In addition to supplying high-quality standard VFFS machines, Jiakai Packing Machinery also provides tailored design service for a complete automated production and packaging solution, to realize the entire process automation following the steps of planning, designing, manufacturing, installation and system integration.

Responding to the changing demands of the market, Jiakai has been making continuous efforts to improve the performance of its current models, and strives to develop more innovative products that specifically for your needs.

You are very welcome to contact Jiakai!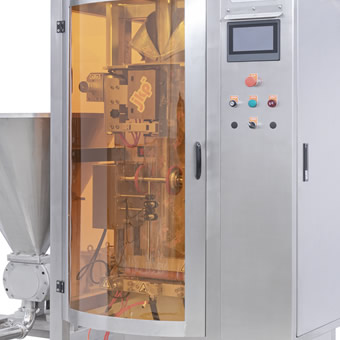 Applicable Industries and Products
Baking: butter, salad dressing, custard, cheese, egg liquid, etc.

Stuffing: lotus seed paste, bean paste, winter seed paste, pineapple, Wuren stuffing, etc.

Sauces: ketchup, strawberry jam, durian paste and other jams.

Beverages: coconut, ice cream pulp and other raw material for tea drinks.

Chinese food: dry mayonnaise, chili oil, hot pot oil, peanut butter, sesame sauce, porridge, soybean milk, meat sauce, vegetable sauce, shrimp slippery, etc.

Western food: curry juice, meat sauce, satay sauce, chocolate sauce, etc.

Glue: wallpaper glue, jelly glue, building glue, etc.

Industrial grease: lithium base grease, paraffin wax, industrial additives, etc.
Export Countries or Regions
Malaysia, Indonesia, Philippines, Thailand, Vietnam, Singapore, Korea, Germany, Brazil, The United Arab Emirates, Hong Kong, Taiwan, Macau, etc.